School Re-opens Monday 5th March
We will reopen on Monday morning. Please be careful on your way to school. It be helpful to bring and change of shoes and socks, dressing appropriately for the weather.
During this time it provides senior pupils with an ideal opportunity to revise for exams and course assessments. Past Papers are available on the SQA website:
http://www.sqa.org.uk/pastpapers/findpastpaper.htm
Revision materials are also available on scholar.hw.ac.uk use your Glow login to access materials.
World Book Day Thursday 1st March
To celebrate world book day we are asking all pupils to dress up as their favourite book character. To participate we are asking pupils to donate £1 to our charities committee.
Gender and Sexual Orientation Alliance
The school is now beginning its journey towards achieving the Bronze Award of the LGBT Schools Charter. The Gender and Sexual Orientation Alliance (GSA) has made great progress working towards the award.
LGBT History Month
As it is LGBT History Month the GSA are involved in the 'Purple Friday Campaign'.
Purple Friday is on Friday 23rd of February and this year's theme focuses on the #EverydayHero the person whose small gestures promote an inclusive atmosphere for LGBTI people. It's about the little things like avoiding assumptions about people's partners, breaking down unnecessarily gendered language, making people feel included
We like to thank all pupils and staff who signed our pride flag to show support for LGBT people in Cleveden. Please check out new webpage:
Gender and Sexual Orientation Alliance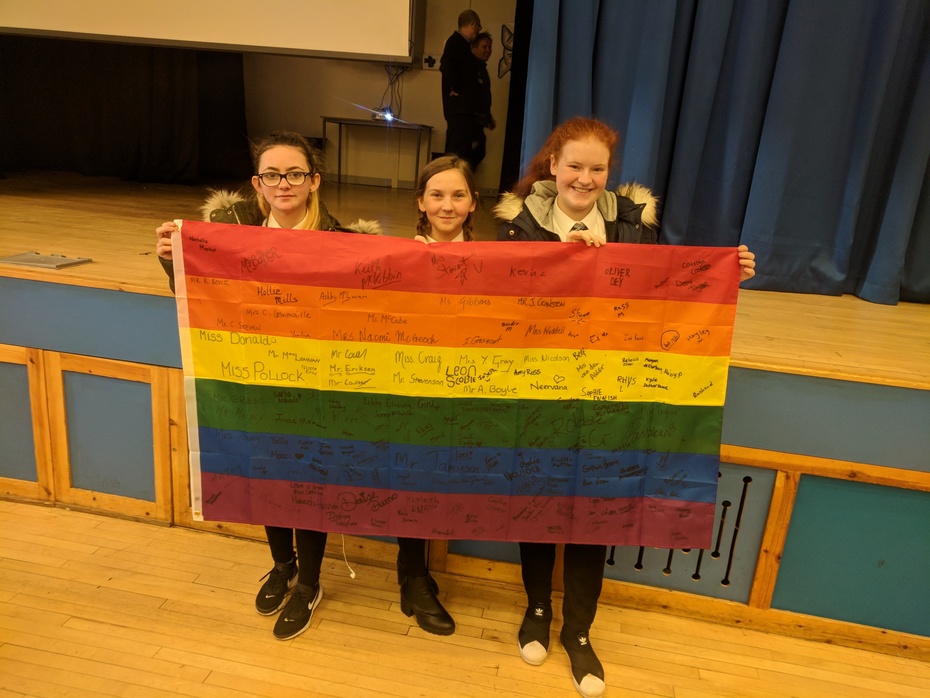 December Newsletter Published
Read about what has been happening in Cleveden Secondary since October 2017. December Newsletter.
Cleveden Careers Fayre 11th October 2017
Pupils and their parents & carers attended to our annual career fair which took place in the school.
A large number of universities, colleges, employers and training providers came along to offer advice and guidance about school subject choice, courses, careers, student funding, jobs etc. A number of local community organisations attended and showed the wide range of advice and support available in the for young people and their families.
The night was a great success and thanks to all who were involved.
'Success is where preparation & opportunity meet' (B Unser)
September Newsletter published
Pupils were issued with the school Newsletter which highlights the pupils' achievements and successes from June to September 2017. You can view a copy here and also catch up with previous editions here.
Cleveden Pupils Reclaim Glasgow Schools Adventure Race Title
Six of Cleveden's pupils competed in the 2017 Glasgow School's Adventure Race. Conditions in Pollock Park were very tough and the team were determined to do well having won in 2016. We are delighted with their success. Hopefully the washing machines managed to get the dirt out of their kits.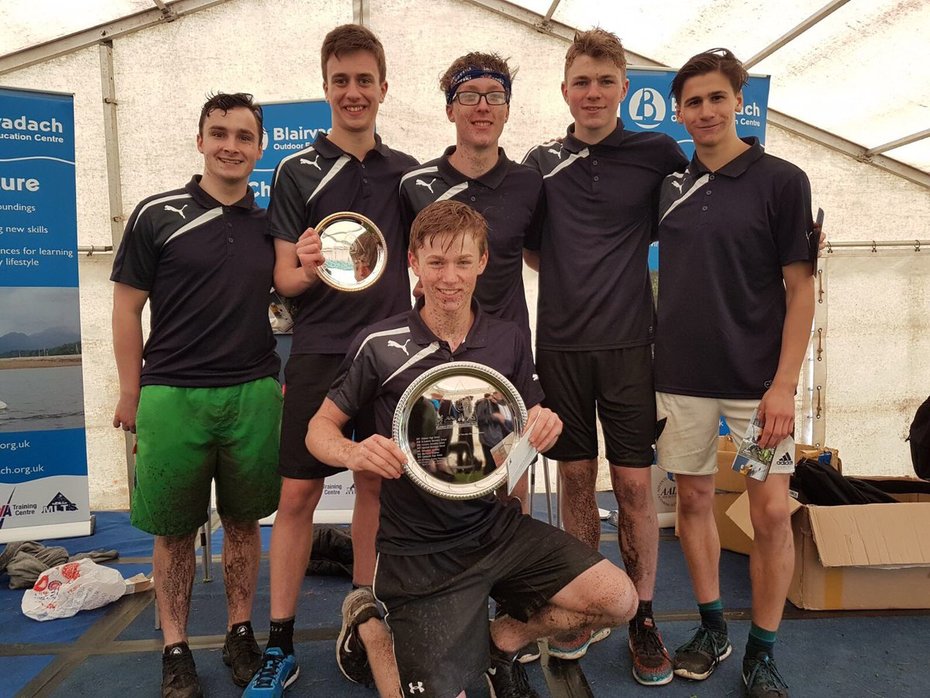 Summer Newsletter Published
Pupils received the summer newsletter in June 2017.
Bloodhound Boys Featured in the Herald
Connor and Murdo's exploits are featured in this article in The Herald.
Cleveden boys pipped at the post
Students from schools all over England, Wales and Scotland have been designing, building and racing their own rocket cars, as part of Race for the Line – the micro:bit model rocket car competition. Cleveden sent Murdo and and Conner to the challenge making the final and coming second overall. Find out more here:
October Newsletter Published
Read about what has been happening in Cleveden Secondary since May 2016. October Newsletter
Cathy McPhail Writing Workshop
We were delighted to host our primary school pupils and Cathy McPhail in a writing workshop. Read about the pupils getting it right.
Cleveden Prizegiving Ceremony 2017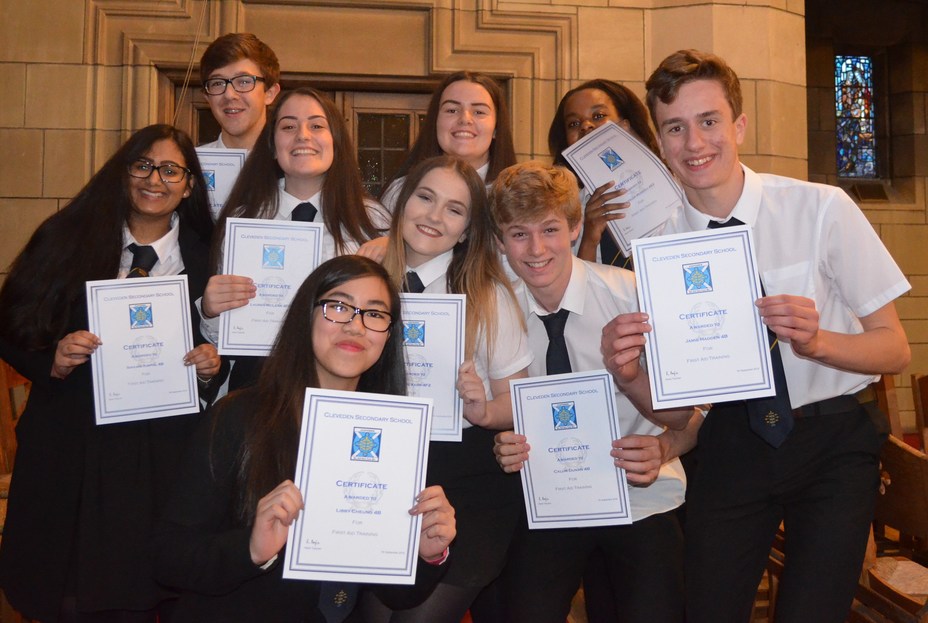 Once again, our annual school Prizegiving took place in St John's Renfield Church on Beaconsfield Road. It was a wonderful event with over 150 awards being presented to the pupils. The church was full of proud family members and staff, excited pupils, and special guests. You can view more photographs and the programme here.
Cleveden Pupils are Scottish Champions
S1 Pupils crowned Scottish Champions in Microbit Rocket Car Challenge. S1 pupils Murdo and Conner triumphed in the rocket race challenge. They picked up a cheque for £1000. Well done Team Cleveden.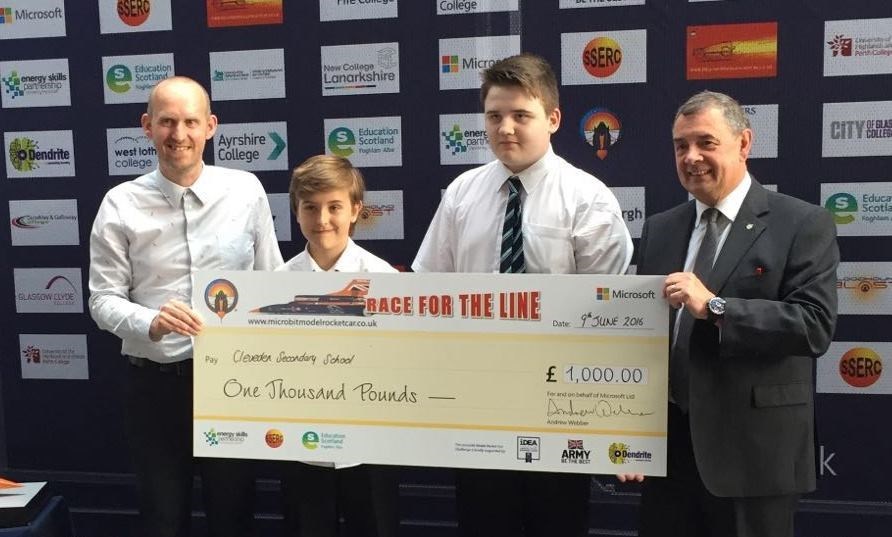 HMIe INspection
During January 2014, Cleveden Secondary was subject to inspection by Her Majesty's Inspectorate of Education. I'm sure when you read the report, you will be as delighted with its findings and positive comments as we are.
HMIe comments within the report are a testament to the hard work and dedication of the staff and the young people here at Cleveden and to the support that you, the parents and carers, give us on a daily basis.
A copy of the full report can be downloaded here: